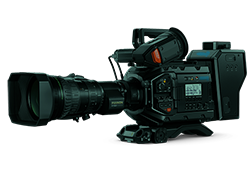 New Blackmagic flexible professional broadcast camera.
Introducing URSA Broadcast, the world's most affordable and most flexible professional broadcast camera. URSA Broadcast is two cameras in one, an incredible field camera for ENG and programming work, as well as a professional studio camera! URSA Broadcast is perfect for traditional broadcasters because it uses the lenses and batteries you already own, and it also eliminates weird media cards and file formats found on traditional cameras. It records onto regular SD cards and uses the same common file formats found on broadcast media management systems and most NLE software. Plus URSA Broadcast is perfect for web broadcasters because it works with both older after market HD lenses and inexpensive photo lenses. No other broadcast camera is more flexible and more affordable!
URSA Broadcast is two cameras in one! The compact design, familiar controls and broadcast camera features are ideal for ENG style shooting and vital for working quickly when you're trying to capture breaking news. Whether you're in the studio or out in the field, URSA Broadcast will give you incredible image quality, accurate skin tones and vibrant colors that are far superior to cameras costing ten times more. The key is URSA Broadcast's new extended video mode that produces pictures you don't need to color grade so you can shoot, edit and get stories on air faster than ever before. URSA Broadcast is also the first camera that finally lets AV and web broadcasters afford a true professional broadcast solution that's dramatically better than DSLRs!