NEWS!
Medical floor column with adjustable arm. Extended height adjustable grounded arm, length 310×300
Floor column height 750mm and base plate 150x150mm
The 1000 dpi sensor will allow you to work on almost any surface.
You can wash the C Mouse Wireless with any EPA-approved disinfectant to help reduce hospital acquired infections or other illness causing germs.
COMING SOON!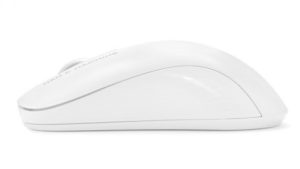 Are you looking for a washable mouse with the look and feel of a standard mouse?
How about a washable mouse without the hassle of wires?
Then check out the C Mouse Wireless. This sleek Mouse is compact, light-weight and has a curved surface that makes for great ergonomics.
The scroll wheel clicks as it spins and the buttons pop just like you are used to. You almost wouldn't know that our engineers designed water-tight compartments inside the body to keep electronics safe during light washing and rinsing.
The 1000 dpi sensor will allow you to work on almost any surface.
You can wash the C Mouse Wireless with any EPA-approved disinfectant to help reduce hospital acquired infections or other illness causing germs.
UUDIS!

How Cool? Slim Cool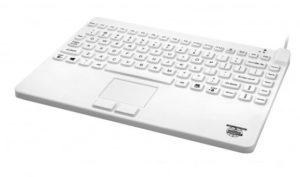 The Slim Cool+ keyboards meet the gold standard of infection control devices, including being lockable and hygienic white for easy splatter detection. Traditional open-style keyboards can harbor harmful pathogens under their keys and in their crevices, as well as other issues (i.e. mold, mildew, etc.).
Why risk your patient's and staff's health.
Choose a Medical Grade Keyboard ideal for infection control.
The Slim Cool+ is designed with reliability in mind.
With no complicated moving parts under the key caps, they can work in the most extreme conditions. From muddy fields to messy food processing factories, dessert sands to the frozen tundra the Slim Cool+ Keyboard is up to the challenge.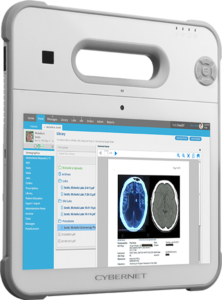 First and only fully antimicrobial medical tablet!
A fully anti-microbial casing and touch glass mitigates the spread of germs and harmful microbes. This is especially important with a mobile device that will be handled by multiple people throughout the day.
Integrated Barcode Scanner and RFID
Use the 2D barcode scanner to accurately identify medications and patient information effortlessly. Skip lengthy login passwords and keep information secure with the RFID reader.
Rugged Drop Protection
This rugged medical tablet has been tested to withstand drops of up to 5 feet and is in compliance with military standards for accidental damage. Designed to withstand daily wear and tear reducing costs associated with repairs and replacement units.
Dual Hot Swappable Batteries
Mobilize your charting efforts without a tether to AC power cables or short battery life. Dual hot swap batteries are designed to keep the medical tablet power cycle virtually endless for all shifts.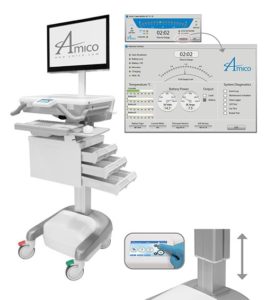 Amico's Smart Drawer System is a versatile storage system designed to dispense items under the same unique identifier.
Multiple rows of storage drawers can be configured, with software-based locking and unlocking security capabilities; medication administration utilizing The Five Rights (right patient, right drug, right dose, right route and right time) is supported through error elimination.
The Smart Drawer System can also link to Microsoft Active Directory and pharmaceutical systems. Narcotics drawers with additional locks can be added through customization.
UUDISED!  CYBERMED NB24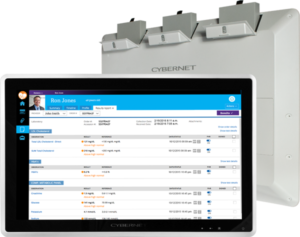 24" Fanless Medical Cart Computer with three Hot Swap Batteries!
The three hot swap batteries last a total of 16 hours before needing to be recharged or swapped out. That's more than an entire medical shift. Even when used with power-consuming peripherals, the batteries will last a full medical shift.
Medical Cart Computers are ready to mount on any medical cart. Easily move your medical cart and computer around your facility and to patient rooms to do charting and access critical data as needed. Compatible with many EMR solutions including Epic, Cerner, PointClickCare and others. Epic, in particular, recommends a 24″ All in One Medical Computer for its software. The CyberMed NB24 is ideal for use with Epic and exceeds many of Epic's requirements.
Remove one screw to gain access to the hard drive / SSD.
The CyberMed NB24 come with an abundance of ports including 4 USB 3.0 ports, 2 USB 2.0 ports and an RS232/422/485 port (with an option to expand to 4 COM ports).
UUDISED!  CYBERMED iOne MP172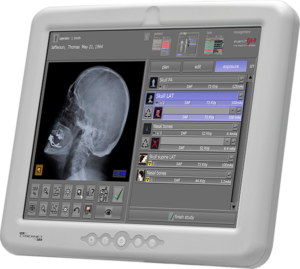 17″ Fanless All In One Medical Computer Cybermed iOne MP172
Powerful PC for Medical Applications and Fully Customizable – The iOne MP172 supports Intel's U7500 Core™ Duo CPU, and up to 4GB of DDR2 memory. With an extended product life cycle, you can add the exact same product to your line-up years later. Your IT will not have to worry about different hardware & software on various computers. You can switch out computers with minimal effort and this saves your IT resources and reduces downtime.
Multiple serial ports make this device a good choice for Anesthesia Applications
The iOne MP172 can be wall-mounted using standard VESA mounting holes freeing up workspace and increasing flexibility. All you need is a nearby power outlet. Use a wireless keyboard and mouse to eliminate cables for a clean and streamlined work area.