NEW!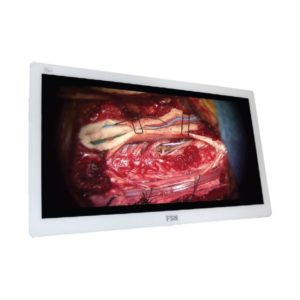 FSN 31″ Surgical Monitor FS-P3102DS
FS-P3102DS displays surgical video in crystal clear 4K resolution.
This cutting-edge technology has been engineered for medical visualization applications to allow surgeons to see live video images with incredible resolution. FSN's 31" 4K display features signal input options for HDMI, DVI, DisplayPort, and SDI, plus DC out power for smaller components.
With a slim, sleek design and a sanitary flushfront glass bezel, FS-P3102D is ideal for showing super-sharp 4K images, and mounting to most OR boom arm systems.
Technical specification: 4K (4096 x 2160 pixels), at 60 Hz, in the surgical suite, 4 x SDI (3G), 1500:1
---
NEW!
FSN 58″ 4K UHD Monitor FM·D5801DV
The largest display, can handle a vast array of tasks in the OR including endoscopic procedures, patient monitoring, X-ray images, and ultrasound.
This monitor can show multiple screens at the same time on its large surface area.
FM-D5801DV features 3840 x 2160 pixel resolution, high brightness, DICOM mode, and flush-front glass for easy cleaning.
View all critical operating room information at once with this large screen display monitor.
---
News!

How Cool? Slim Cool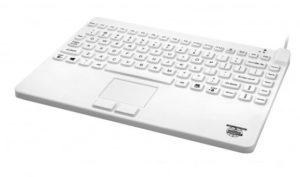 The Slim Cool+ keyboards meet the gold standard of infection control devices, including being lockable and hygienic white for easy splatter detection. Traditional open-style keyboards can harbor harmful pathogens under their keys and in their crevices, as well as other issues (i.e. mold, mildew, etc.).
Why risk your patient's and staff's health.
Choose a Medical Grade Keyboard ideal for infection control.
The Slim Cool+ is designed with reliability in mind.
With no complicated moving parts under the key caps, they can work in the most extreme conditions. From muddy fields to messy food processing factories, dessert sands to the frozen tundra the Slim Cool+ Keyboard is up to the challenge.
COMING SOON!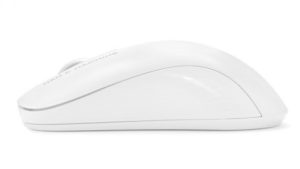 Are you looking for a washable mouse with the look and feel of a standard mouse?
How about a washable mouse without the hassle of wires?
Then check out the C Mouse Wireless. This sleek Mouse is compact, light-weight and has a curved surface that makes for great ergonomics.
The scroll wheel clicks as it spins and the buttons pop just like you are used to. You almost wouldn't know that our engineers designed water-tight compartments inside the body to keep electronics safe during light washing and rinsing.
The 1000 dpi sensor will allow you to work on almost any surface.
You can wash the C Mouse Wireless with any EPA-approved disinfectant to help reduce hospital acquired infections or other illness causing germs.
OPERATSIOONISAALIDE INTEGRATSIOONI LAHENDUSED
OPERATSIOONISAALIDE INTEGRATSIOONI LAHENDUSED
Operatsioonisaalidesse satuvad tavaliselt kokku erineva aastakäiguga, mitmete erinevate tootjate ning mitte samadel tehnoloogiatel põhinevad medistiiniseadmed. Nende mugavaks juhtimiseks ühest punktist opisaalis, ilma et peaks liikuma seadmete vahel, on loodud  operatsioonisaalide intergatsioonilahendus.
Kombineerituna on võimalik vaadata erinevate seadmete pilti või edastatavat graafilist infot (alarme või südame rütmi näiteks) kõkidell erinevatel monitoridel saalis ning vajadusel saata koolitusruumidesse.
Erinevatele kasutajatele võib eelprogrammeerida erinevad seaded monitoride värvigammale mugavamaks töövooks.
Kasutatakse HD-SDI standardit, mis tagab kõrge kvaliteediga ja kiire signaaliedastuse.
Meditsiiniseadmetele võib saata käske tsentraliseeritult. Näiteks tugevdada või vähendada valgust, tõsta operatsioonilaua nurka, muuta ruumi temperatuuri, sulgeda korraga kõik seadmed koristustöödeks jne. Lahendus aitab ka integreerida samasse võrku kõik patsiendi -ja protseduuriandmed ning kasutab andmeedastuseks DICOM või HL7 standardeid.
See võimaldab toota dokumentsiooni protseduuride kohta, millel on juba patsiendi ja teostaja andmed ning saata nad edasi haiglate arhiividesse.
Opiruumide lahendused: http://ornet.eu/ornet-surgery

SKOOPIA VALGUSED
SKOOPIA VALGUSED
Operatsioonisaalides kirurgiliste videoskoopia seadmete järjest ulatuslikum kasutamine (näiteks artroskoopia, laparoskoopia, torakoskoopia ) on loonud vajaduse spetsiaalse rohelise ja sinise taustavalguse kasutamisele, mis kurnab vähem kirurgide silmi ja tekitab piisava taustvalguse lõikuse jaoks.
Samuti on rohelise ja sinise valguse kasutamine vajalik endoskoopias, et tuua paremini esile limaskestade ja sidekudede nähtavuse.
Me pakume väikest, aga tõhusat spetsiaalvalgustuse lahendust nii operatsioonisaalidesse, kui protseduuriruumidesse
Rohelised valgustid
Sinised valgustid
KLAVIATUURID, HIIRED
MEDITSIINILISED KLAVIATUURID
M&M Really Cool Waterproof Keyboard
Full size keys include number pad and F keys, UK & Nordic layout, Tru-Lock feature, terminally cleanable  
M&M Really Cool Waterproof Touch Keyboard
Sealed Waterproof Keyboard with Touchpad, full size keys include number pad and F keys, UK & Nordic layout, Tru-Lock feature, terminally cleanable
M&M Slim Cool Waterproof Keyboard
Smallest Medical Grade keyboard, includes 12 Function keys, USB plug-and-play
M&M Slim Cool Plus Waterproof Keyboard
Smallest Medical Grade keyboard with Touchpad, Full size keys includes 12 Function keys
M&M E Cool Keyboard
Specially designed for hospital Downtime Workstations, red color keyboard with full size keys and numeric keypad. Keyboards come with custom firmware to identify that the keyboard is in the right place.
MEDITSIINILISED HIIRED
M&M Medical Mighty Mouse
Premium Sealed full size mouse with 5 button interface. Disinfectable for Medical & Clinical enviroments.
The Mighty Mouse has a sealed silicone body and comes with an IP 68 rating meaning that it meets the highest standards for water resistance and dust resistance.
M&M Medical Petite Mouse
The Petite Mouse, like all M&M premium products has a sealed silicone body and comes with an IP 68 rating meaning that it meets the highest standards for water resistance and dust resistance.
ARVUTID
ARVUTID
Medical Grade Tablet 10.1" CyberMed RX
The CyberMed RX is a rugged, powerful tablet that's perfect as a mobile clinical assistant. Features like scanners, front and back cameras, smart card readers and VESA mounts make the CyberMed Rx a powerful, rugged, healthcare solution. Medical professionals can use the CyberMed Rx as a point of care solution to enable them to spend more time on patients while remaining connected. Access and update patient records with real-time information, manage prescriptions and improve patient care.
Read more

Medical Grade Tablet 9,7" CyberMed T10C
Powerful Windows tablet designed for near-patient and hospital use. Waterproof front bezel and hygienic aluminum housing withstands routine liquid disinfection as recommended by CDC.
Features like scanners, front and back cameras, Smart card reader and VESA mounting make the CyberMed T10C the "Swiss Army Knife" of IT solutions. Capable of running EMR applications while telecommunicating or scanning patient documents and ensuring compliance.
Read more
KAAMERAD
KAAMERAD
HD resolutsiooniga laekaamerad operatsioonisaalidesse ning anatoomilise patoloogia osakondadesse. Suurepärased töövahendid  protseduuride ülddokumentatsiooniks ja tänu hämmastavale zoomile ning pildi kvaliteedile saab neid samuti kasutada koolituste läbiviimiseks.
Patoloogi töökekskonda disainitud koos valgustiga kaamera makro ülesvõteteks, 30x suurendusega ning kvaliteetse optikaga, mis võimaldab head värvide eristust.
Ruumikaamerad
Patoloogia kaamerad
KINNITUSED, JALAD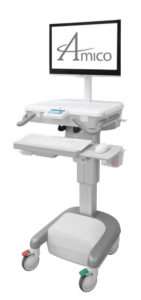 KINNITUSED, JALAD
Lai tootevalik erinevatest meditsiinivaldkonda mõeldud kinnitustest, jalgadest ja kärudest. Kui on vaja leida seadmekäru, kas akutoitega või ilma, spetsiaalkäru mõnele meditsiiniseadmele või kinnitus monitorile, arvutile ja tahvelarvutitele, valgustile või meditsiiniseadmele, küsige kindlasti meie käest.
Suuremate koguste puhul pakuvad tootjad kliendikohaseid lahendusi.
Tooteid saab tellida erinevates värvitoonides.
DIKTOFONID
DIKTOFONID
Digitaalsed diktofonid koos erinevate lisaseadmetega võimaldavad digitaliseerida kõnet ning teatud keeltes on saadaval kõnetuvastamise moodulid. Ergonoomilised, antibakteriaalse kattega ning sisseehitatud müra vähendamise omadustega.
Pakume ka terviklahendusi, milles on diktofoni omadus sisseehitatud – opisaali juhtimislahendus ja protseduuride dokumenteerimislahendus, kus vastavate lisaseadmete olemasolul saab helifaile salvestada. Kui hääle salvestamise vajadus võiks olla üks osa muudest talletamisvajadustest, siis lisainfot saate siit :
Diktofonid: https://www.dictation.philips.com/ee/industry-solutions/industry/healthcare/
Opisaalide ja patoloogia üldlahendused: www.ornet.eu
TEENUSED
TEENUSED
Omame kogemust meditsiiniliste lahenduste projekteerimisel ja teostuses ning nende haldamises. Alates suurte haiglate operatsioonisaalidest kuni väikeste protseduuriruumide või labori osadeni välja. Oleme teostanud lahenduste paigaldust ka anatoomikumi ning silmakliinikusse. Täislahendused või alltöövõtt ning osalahendused.
Sertifitseeritud ja koolitatud spetsialistid ning meditsiiniseadmete paigalduste verifitseerimiseks ja valideerimiseks erinevad tööriistad. Firma omab ISO13485-2016 sertifikaati ning seetõttu tavalisest paremat arusaamist meditsiiniseadmete osas ja paigalduste nõuetele. Samuti oleme võimelised valmistama erinevaid kinnitusi ja kaableid, et paigaldatud seadmed oleksid turvalised ja kergelt hooldatavad.
Võtke meiega ühendust, kui vajate abi mis tahes suuruses meditsiinilahenduse tehnilises teostamises.
Projekteerimine
Kaabeldustööd, mõõdistamine
Paigaldus
Paigalduste kontroll
Hooldus ja haldus